Get Out…of Addis
By Maceda Alemu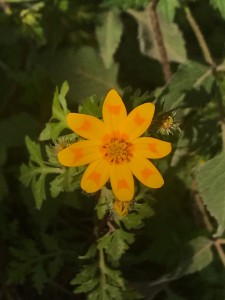 This past September, as part of my fellowship with St. Paul's Hospital Millennium Medical College, I had the chance to travel to a few cities outside of Addis Ababa, including Mek'ele, Axum, Gondar, and Bahir Dar. It was an incredible experience. After a bit of reflection, I wanted to share the top three moments from my travels with you, the reader and share some professional tips (pro tips) for adventures in Ethiopia with you, the future visitor. For those who know me, being brief is… practically impossible, but I always enjoy a good challenge – so here goes and hope you enjoy this short read!
Highlight #1: I loved that I had the chance to venture to these places by car. It was an amazing opportunity to leisurely pass through awe-inspiring and untouched environments. Don't get me wrong, Addis Ababa is a great city. However, in your day to day, you really see and feel the effects of the robust industrialization and rapid urbanization of this growing metropolis. It's remarkable to see how much progress has been made in such a relatively short time. I admire the transformation the city has undergone and is still undergoing, but something about having seen the less industrially developed parts of the country was profound. The vast bucolic pastoral lands, seemingly endless mountain ranges, and the unexpected presence of vibrant flowers was magical and stirring in unexpected ways.
Pro Tip #1: I implore you to make sure that some leg of your travel in Ethiopia (if not all) is by car. It is such a fulfilling way to experience more of the landscape and truly bask in the profound natural spaces within this beautiful country. Trust me, you'll want to stop and smell the adey ababas!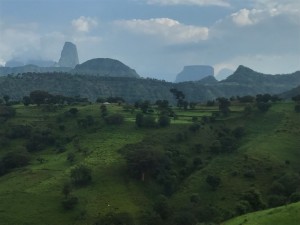 Highlight #2: As part of my work assignment, I spoke with clinicians, students, and patients at hospitals in the aforementioned towns. It was challenging because I don't speak Amharic fluently (yet!), but it was humbling in that the conversations I had offered me a rich perspective about what life in Ethiopia looks like. I met people with different backgrounds, ethnicities, religions, socio-economic statuses, and identities, which made me think twice about how I was processing Ethiopia and crafting my experience in this country.
Pro Tip #2: Simply put, venture outside of Addis Ababa. There is so much more to see, explore, and experience in this country beyond the attractions and excitement of Addis.

Don't be afraid of what you don't know or think you can't do – learn to be comfortable being uncomfortable.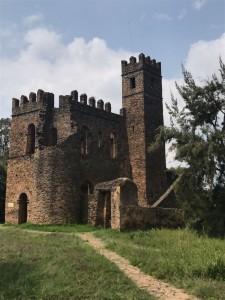 Highlight #3: Despite traveling for work with individuals that were born and raised in Ethiopia, they mentioned they never had the chance to visit some of the country's most historical sites. All of us had learned about these places and their significance in Ethiopian history from our family members stories of the 'old times', from our teachers in school, and from the books written on the development of this country. However, most of us never had the chance to see and appreciate these spaces in real life. So, we exercised spontaneity and whenever we finished our assignments early, we made time to learn more about our country.  We saw museums in Mek'ele, the obelisks in Axum, the Fasil Ghebbi Palace compound in Gondar, and Lake Tana in Bahir Dar.
It was a chance for all of us to reimagine Ethiopia and enhance our understanding of our identities.
Ethiopia has a particularly unique and complex history. For many reasons, its narrative varies depending on who you ask, but it's worth exploring and hearing from people of different generations and regions. The chance to learn more about the rich cultural, traditional, and historical contexts of elements such as the obelisks and Lake Tana from individuals who've lived exclusively in the cities where those histories took place redefined in every way what we thought we knew about Ethiopia. Their insights were enlightening and helped me (again!) reframe my concept of Ethiopia and what it means to be Ethiopian.

Pro Tip #3: Our exposure to different storytelling forms prompted discussions amongst my coworkers and I of how our knowledge on these matters influenced our perspectives. So, I say indulge in the guidebooks and google things as much as you like, but if you have the chance to be in some of the aforementioned spaces – put down the Lonely Planet and the wi-fi enabled smartphone and open your mind to a new outlook of Ethiopia from the people you meet. Immerse yourself in your environment by asking questions and listening to people's stories. Most importantly, be sure to share your newfound knowledge with others to keep traditions alive and diversify opinions on Ethiopia!
I'm grateful I had the chance to travel outside of Addis so early on in my time here and I'm excited to see where my next road trip will take me. Stay tuned for my next adventure!
The views and opinions expressed in this article are those of the authors and do not necessarily reflect the official policy or position of Ethiopian Diaspora Fellowship the organization and the leadership.